We've been expecting you...




January 7, 2005
What's This?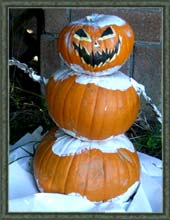 Happy holidays, everyone.

I've completed two new pages in the decorations section, the fanimatronic ghoul and billowing ghost.

There's also some new content in the effects section. I've added a new effect, the tree projection, and I've updated the projected light ghost instructions with more pictures and information.




October 10, 2004
You Should Know
This website's new address is www.raymondfero.com/rfhaunt. Please direct links there. The old website has been removed from the server and is no longer accessible.

E-mail concerning my Halloween site should be directed to: rfhaunt@gmail.com.




November 3, 2003
Halloween At A Glance
I hope everyone had a great Halloween!

Haunt. This year, I didn't have time to do a full garage haunt, but I was able to spend all day Friday decorating our front lawn and haunting our patio. In the end, it turned out really well. We had a working fanimatronic at the gate, an awesome billowing ghost in the window, a backlit hangman, and a fortune teller scene, along with some other cool effects and decorations. I'm just starting to go through the pictures, and I'll try to get them up on the site soon.

Art. My most recent personal art project earned me a place as runner-up in Blizzard's Diablo Halloween art contest! Check it out at their site, and see stages from the entire process here.

I've also updated the Halloween art section on this site with that and three brand new Halloween-themed cut and paste pictures.




October 9, 2003
Resurrection
I have just finished completely redesigning this site from the ground up, and hopefully you will be pleased with the result. So feel free to have a look around. Let me know if you find any broken links or page errors.






Home

Quick Links:


- Fun 'n Folly


- RF Home

Archives:


- 2002 News


- 2001 News


- 2000 News